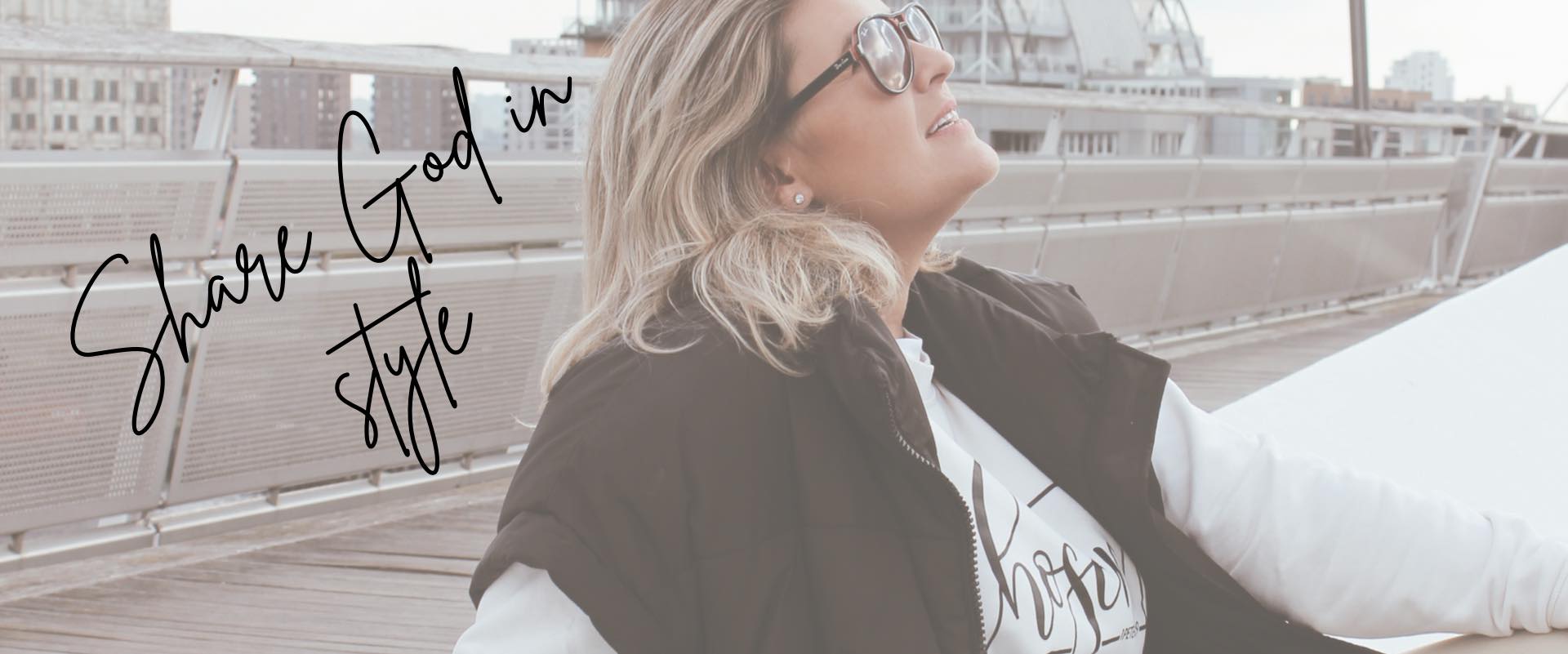 testimony
by Gintarė Pozingytė - Founder
J.C.Waymaker Full Story
I want to begin this testimony by saying, that I know for sure, that God has called me for this journey. It all began with a phone call from my friend Asta: "What do you think about the idea of creating a Christian clothing line?" she asked. This immediately seemed to resonate with me, especially after I recently tried searching for similar clothes online and failed to find anything that I liked. I even had this same idea some time ago before, but I would never have been able to act upon it on my own. Asta's phone call was like a sign that it was time to start, even though neither of us had the necessary experience or understanding of how this would all happen!
We decided to meet to pray together, and to seek God for the next steps that we had to take. We instinctively knew that without prayer, we would not be able to continue on this journey at all. It was during this first meeting that the word "waymaker" seemed to speak very clearly into our hearts, and together with it, came a vision of an arrow pointing upwards, showing that He is the only way. We also added the rays of light surrounding the name, as this symbolises Jesus- the light of the world. We then went on to add the letters A and G, but after constant uncertainty and doubt, we decided to fully commit this project to Jesus, and so J. C. Waymaker was born!
I was so excited that God had given us a brand name and a logo, but time went by and things just seemed to stay at a standstill. It felt like there was something big that was missing… I knew from the beginning that the goal of this project was to share the Good News, and that these clothes will be tools that God will use to speak to people about Jesus, our "waymaker". But I still struggled to understand what our long-term goals were, and what this brand's legacy was in terms of eternity. Though I had so many ideas, none of them were really from God, because they were all part of my plan, not His.
That's when I decided I needed something to shift, so I scheduled a day off to spend time with God in prayer, and suddenly I felt the Holy Spirit urge me to write what would come to mind. I started writing down that J.C. Waymaker is a project that will change many people's lives, that it will be an expression of God's love and a reminder that there is nothing impossible for God. I also wrote down how we would do this; by building an environmentally friendly, ethical factory of organic cotton clothing, that will provide the best social security benefits for its workers, as well as a Christian school for their children.
When I read all of this, I couldn't believe my eyes! This really was God's calling for my life, though I personally found this all too hard to believe. But God reassured me almost instantly, saying: "There is no-one too small, no-one that I cannot use to perform miracles and do amazing things for my glory. I am the "waymaker", not you! Step out in faith, and follow where I lead, and I will do everything for you. If I wanted to choose someone who was more equipped for the task, someone who didn't need my help and could do it all on their own, I would have done just that. But then, there would be no room left in this project for me…"
God then continued to show me the details and events of my life that He had started to put together like a puzzle, long before I even knew anything about this project. First of all, He took me back to my childhood, and I remembered the shows I would watch on TV about nature and wild animals, and I had a strong longing to visit India. I wanted to see those animals for myself, and to somehow help these people. Though I was still a child, India was engraved into my heart, and I realised that it was only God who could have done so.
Then, He reminded me about my trip to India, where I was constantly in a state of heart ache for the people, the children, who lived there in extreme poverty and the families that barely had any necessities needed to survive. This trip was truly a life-changing and eye-opening experience, reminding me of just how comfortable our lives here in this part of the world really are. And somehow, I knew deep down that one day I would come back here again…
Later, God also reminded me of the time I was sent to a Christian education course by my work and just how much it impacted me. I remember that the whole time I was there, all I could think about, was that someone should open a school like this in a place where children have no opportunities to go to school. I had no idea that this was the same dream that I would one day want to make a reality in India…
When I finally wrote everything down, I could see how all these details of my life had come together, leading me to this project, and to where I was today. I also knew that, in order for this project to be a success, I needed to share my testimony publicly in my church. It was vital for me to make this idea known, to remain in community and to have the support of others, in order to keep this dream alive.
Now, the main reason why I wanted to use organic cotton for my products was because of what I saw when I was in India. The towns and cities I visited were extremely polluted due to the numerous factories and waste caused by production, yet on the other hand, there was the contrast of the beautiful nature and wildlife that inhabited the country too. The main questions I kept asking myself were: why are people not helping India become cleaner and minimise the pollution and waste that the country produces?
So when I came home, I started to do a lot of research in trying to find these answers. This is how I came across organic cotton farming, as a possible solution, and the very first website that I opened, showed me that there are several places in India that have organic cotton farms. This first one that I came across, was in Telangana, and I instantly realised that this name sounded extremely familiar… I decided to look through the photos on my phone of my trip to India, and I realised that this was the exact place I had stopped to take a photo with a piece of cotton in a cotton field! I didn't understand why at the time, the urge for this photo was so strong, but when I looked back, I realised how God knew how much I would need this photo. It was a sign that this was the place I needed to start my mission, and that I am on the right path, exactly where God wants me to be.

This project is a testimony and constant reminder that though I am weak, and often feel unworthy, God is the one who is strong, He is almighty and He is alive and working! This is a true journey of faith, where I am taking one small step at a time, and I know that God alone can and will be faithful till the end!
BLOG
Jesus is my Waymaker
Find your routine
Treat yourself and stock up with these Christian t-shirts for you and your loved ones! These